Beijing, capital of the People's Republic of China, is the nation's political, economic, cultural, educational and international trade and communication center. With a history of more than 3,000 years, it has been an integral part of China's history. There is scarcely a major building that doesn't have at least some national historical significance. Being the capital of China for about 850 years, it is one of the Four Great Ancient Capitals of China, offering China's most wonderful array of attractions. No other city in the nation attracts more travelers. As one of the six ancient cities in China, it has been the heart and soul of politics and society throughout its long history and consequently there is an unparalleled wealth of discovery to delight and intrigue travelers as they explore the city's ancient past and exciting modern development.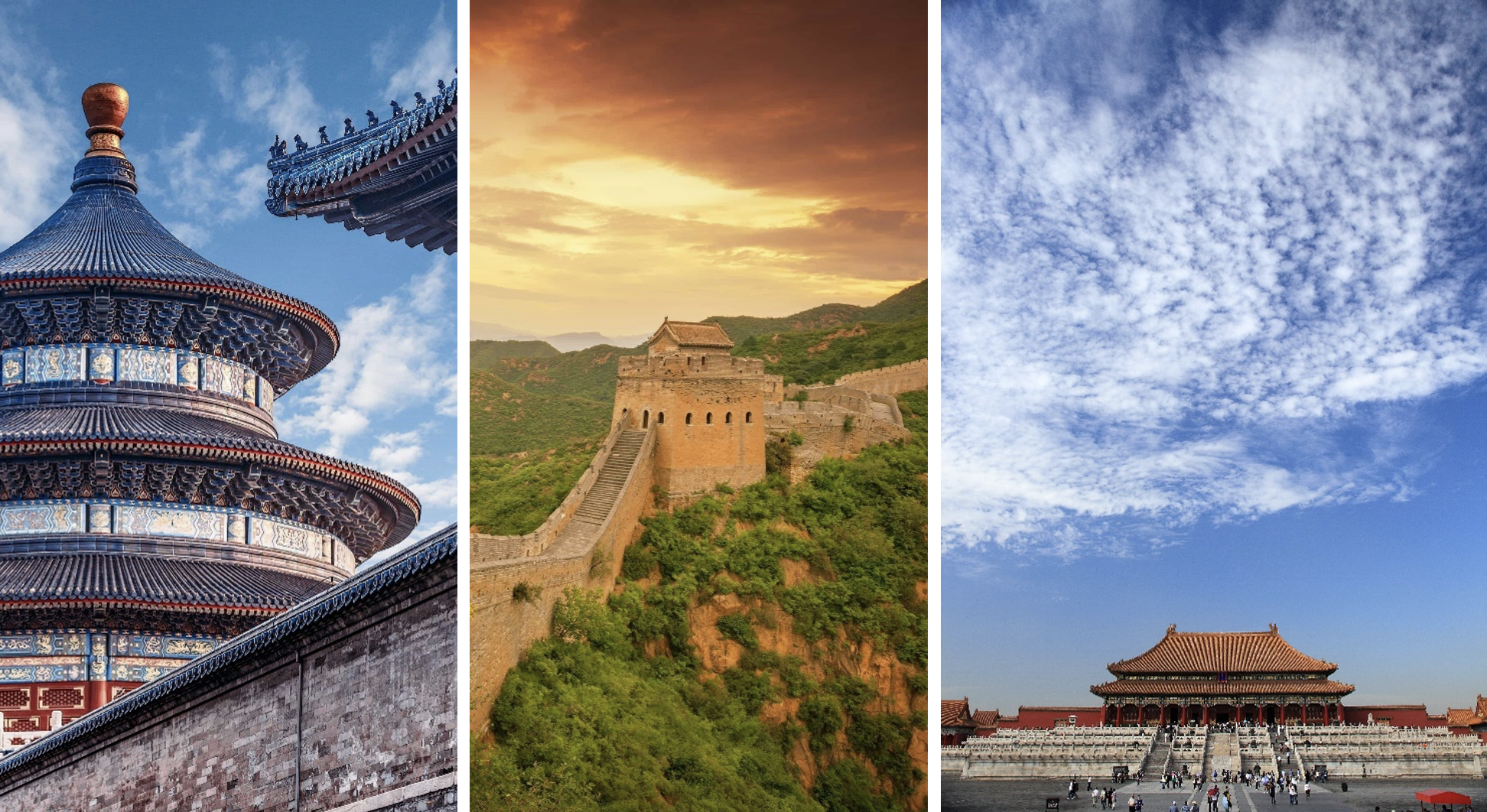 Weather
September, praised as a golden month in Beijing, is cool, clear and brisk. The weather is comfortable and the fall scenery is very beautiful. The Traditional Chinese Mid-autumn Festival usually falls during the month, which adds a festive atmosphere to the city.
| Month | High Temperature | Low Temperature | Average | Rain | Humidity |
| --- | --- | --- | --- | --- | --- |
| September | 26℃/79℉ | 15℃/59℉ | 20℃/68℉ | 46mm | 68% |
Electricity
The electric current used in China is 220V 50Hz. Hotels provide 220V and 110V (shavers only) power outlets. Please note that plug adapters and converters might be required.
Currency and Exchange
The currency used in China is the Renminbi Yuan (RMB or ¥) and the value is pegged to the US dollar with a current exchange rate of US$ 1: RMB 6.45 (May 2016). The Yuan is divided into 10 Jiao or 100 Fen. Notes come in denominations of ¥100, 50, 20, 10, 5 and 1. Exchange your leftover Yuan before returning home as it can only be exchanged within China's borders.
Euros and US Dollars can be exchanged at your hotel or at any bank. Traveller's cheques can only be exchanged at the Bank of China. Banks usually open from 9 a.m. to 5 p.m. From Monday to Friday and 9 a.m. to 4 p.m. on Saturday and Sunday. Currency exchange services are available for the following foreign currencies: US Dollar, British Pound Sterling, Euro, Japanese Yen, Australian Dollar, Canadian Dollar, Hong Kong Dollar, Swiss Franc, Danish Krone, Norwegian Krone, Swedish Krone, Singapore Dollar, Malaysian Ringgit, and Macao Pataca.
Major credit cards are accepted at many establishments, such as American Express, Diners Club, JCB, Master Card and Visa.
Insurance
Organizers of the Congress do not take any liability for personal accidents or injury or loss or damage to private property of any participant indirectly arising from travelling to Beijing and/or attending the Congress. Participants are advised to purchase adequate travel and health insurance before leaving their own countries.
Safety and Security
In general China is a very safe country. However, be aware of pickpockets and be careful when crossing the road. Passports should be kept in the hotel for safety until the departure day. Also note the serial numbers of your traveller's checks if you carry those. We also recommend having copies of your passport and credit cards with you in case of loss or theft.
Tipping
Gratuities are not customary in China. However, in hotels and during group travels, tipping is practiced for porters, tour guides and drivers.
Smoking
Smoking in indoor public places has been banned in Beijing from June 1, 2015 following the rolling out of the toughest ever anti-smoking regulation in China. The regulation extends smoking bans to include all indoor public areas and workplaces, plus a number of outdoor areas including schools, seating areas in sports stadiums and hospitals where women or children are treated.
Time
China covers four time zones. Beijing time is the only official time throughout the country; punctuality is highly appreciated.
Transportation
Public Buses

Buses are the main means of transport in Beijing. Please prepare small bills as not all buses will carry change. Buses can be very crowded during peak times, which are generally from 7-9 a.m. and 4-6 p.m.

The Subway

The subway system in Beijing has 15 lines. The fare is 3 - 9 yuan. Trains run from 5:30 in the morning until 11:00 in the evening. A ticket can be bought at the ticket office at each station or at an automatic ticketing machine. Subway stops are announced over the train's speaker system in Chinese and English.

Taxis

Taxis in Beijing have several colours. All of them show a taximeter inside. You can easily find them in every part of Beijing. All Taxis will charge 2.3 yuan per kilometer with a base rate or minimum charge of 13 yuan.